Mammoth Coins are one of Brawlhalla's in-game currencies and are used to purchase cosmetics and taunts in the Mallhalla. Unlike Gold, Mammoth coins are equivalent to real world currency and cannot be earned in game.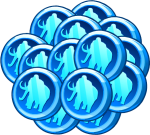 Upon redemption of a Founder's pack, Founders&Friends pack, or Collector's Edition pack - players will be awarded 320, 860, or 3400 Mammoth Coins, respectively.
Moreover, on November 9 – November 23, 2016, players were also able to purchase BCX 2016 pack worth 300 Mammoth Coins for $9 (200 rubles in the Russian Steam).
Players may also purchase Mammoth Coins directly from the Mallhalla in increments - buying in bulk will give you more coins per money spent.
In a nutshell, 100 Mammoth Coins is approximately equal to $5. In the Russian Steam, 100 Mammoth Coins cost around 100 rubles.
See also